American Football in Japan
Frontiers win Rice Bowl
(January 4, 2015) - About three weeks after claiming their first ever X League championship the Fujitsu Frontiers also won their first National Championship by beating college champion Kwansei Gakuin University Fighters 33-24 at the Tokyo Dome. Playing without injured QB Colby Cameron RB Gino Gordon became the primary weapon for the Frontiers' offense rushing for 95 yards on 23 carries and two touchdowns. His second touchdown, an 11-yard run two and a half minutes into the fourth quarter for a 30-24 lead, provided the game winning points. Gordon, who was later voted the game's MVP, scored his first touchdown (3-yard run) early in the second quarter for a 10-7 lead.

The Frontiers added ten more points in the second quarter for a 20-10 lead at halftime. But the Fighters came back in the third quarter scoring two touchdowns on consecutive possessions. First RB Seija Hashimoto cut the Frontiers' lead to 20-17 with a 1-yard run and at the end of the Fighters' next possession QB Kei Saito threw a 23-yard touchdown pass to WR Takato Kido for a 24-23 lead with ten seconds left in the third quarter.

Game Statistics

Game Report at www.xleague.com

Game Report at The Japan Times Online

(Text: Dieter Hoch / Photo: X League)
Frontiers take X League title
(December 17, 2014) - The Fujitsu Frontiers took their first ever X League championship by beating IBM BigBlue 44-10 in the Japan X Bowl. Next for the Frontiers is the Rice Bowl on January 3 where they face College Champion Kwansei Gakuin University Fighters. In the Japan X Bowl the Frontiers' defense set the tone by forcing five turnovers with four of them leading to touchdowns. With both starting quarterbacks forced to leave the game by injuries Fujitsu's RB Gino Gordon became the MVP of the game, rushing for 112 Yards on 17 carries and scoring four of his team's five offensive touchdowns.

Game Statistics

Game Report at www.xleague.com

Game Report at The Japan Times Online

(Text: Dieter Hoch / Photo: X League)
Rise upset Finies
(November 2, 2014) - Nojima Sagamihara Rise handed the Elecom Kobe Finies their first loss of the season beating the surprise West Division champion 41-14 in week one of second stage play. RB Takashi Miyako ran for 293 yards and scored the first three touchdowns for his team with runs of 55, 83 and 30 yards. The Finies scored their first points with a 5-yard touchdown pass from QB Inoke Funaki to WR Masahiro Tonai when they were already trailing 24-0 and did not score again before the Rise had added 17 more points to their lead. The Finies can still reach the final stage by beating the Obic Seagulls on November 16. The Rise will next face the Seagulls on November 9.

In other games the LIXIL Deers scored two touchdowns in a span of one minute and 26 seconds in the third quarter on their way to a 23-7 win against the Asahi Soft Drinks Challengers at Expo Flash Field in Osaka. Midway through the third quarter with the Deers leading 3-0 QB Shohei Kato threw a 39-yard touchdown pass to WR Yasushi Nakagawa for a 10-0 lead and just 86 seconds later LB Takashi Makiuchi put his team up by 17 points with a 35-yard interception return.

In Tokyo the Fujitsu Frontiers scored 44 points in the first half alone in a 65-0 rout of the Asahi Beer Silver Star, piling up 654 total yards on 61 plays. RBs Keita Takanohashi and Gino Gordon had two touchdown runs each in the first two quarters and QB Colby Cameron added two touchdown passes to WR Teruaki Clark Nakamura.

Game Statistics Rise vs Finies

Game Report at www.xleague.com

Game Statistics Challengers vs Deers

Game Report at www.xleague.com

Game Statistics Frontiers vs Silver Star

Game Report at www.xleague.com

(Text: Dieter Hoch / Photo: X League)
Finies stay unbeaten, take division title
(October 21, 2014) - The Elecom Kobe Finies accomplished a historic first: With a 28-0 win against the As One Black Eagles in the final week of first stage play they became the first team other than Panasonic Impulse and the Asahi Soft Drinks Challengers to win the West Division of the X League. The Finies defeated both traditional powerhouses on back-to-back weekends in late August and early September. In the second stage they will face the defending X League and Japanese champion Obic Seagulls from the Central Division and Nojima Sagamihara Rise from the east.

Against the Black Eagles the Finies' offense did not score until the fourth quarter. The lone score through the first three quarters was provided by LB Rocky Poutoa-Alo who scored with a fumble recovery in the endzone with about one and a half minutes left in the second quarter. Early in the fourth quarter RB Tomomi Hase scored with a 1-yard touchdown run and later QB Inoke Funaki threw touchdown passes of 43 and 1 yards to WRs Kakuto Hori and Masahiro Matsuda.

Game Statistics

Game Report at www.xleague.com

Week 5 wrapup at www.xleague.com

(Text: Dieter Hoch / Photo: X League)
Deers surprise defending Champion
(October 21, 2014) - The final round of first stage action ended with a surprising finish in the Central Division when the LIXIL Deers beat the defending X League and Japanese Champion Obic Seagulls 23-17 at Yokohama Stadium. The outcome itself would not be too big of a surprise when two of the X League's best teams face each other, but while the Deers had a couple of close calls earlier against the All Mitubishi Lions (31-28 in week 1) and Asahi Beer Silver Star (20-10 in week 2) the Seagulls did not even allow a single score through the first four games.

The Deers handed the Seagulls' defense their first points of the season on the first play of the second quarter with a 1-yard touchdown pass from QB Shohei Kato to WR Naoki Maeda. The Deers had a 14-10 lead at halftime and added two field goals in the third quarter. The Seagulls came within three points with a 6-yard touchdown run by WR Noriaki Kinoshita early in the fourth quarter and had a chance to win in the end but with just over three minutes left to play they waisted a great scoring opportunity with a fumble after reaching the Deers' 4-yard-line.

Game Statistics

Game Report at www.xleague.com

Week 5 wrapup at www.xleague.com

(Text: Dieter Hoch / Photo: X League)
Nihon crushes Keio
(October 11, 2014) - Nihon University Phoenix is getting closer to a fourth straight showdown with the Hosei University Tomahawks for the KCFA championship. On Saturday they defeated the Keio University Unicorns 63-20 at Amino Vital Field in Tokyo. Starting QB Ryohei Takahashi threw four touchdown passes, three in the first half, as Phoenix build a 28-7 lead at halftime. In relief duty QB Ryosuke Nishizawa added three more touchdown passes for Phoenix. WRs Yoshimasa Iwamatsu and Kosuke Fukuoka as well as TE Yuji Mizuno had two touchdown catches each.

Trailing 14-0 after the first quarter Keio came within seven points early in the second quarter with an 11-yard touchdown pass from QB Tsubasa Takagi to WR Hideaki Shimizu but did not score again before trailing by 49 points (56-7) in the fourth quarter. Nihon had opened the scoring little over four minutes into the game with a 6-yard touchdown pass from Takahashi to Iwamatsu. In the final minute of the first quarter Phoenix increased the lead to 14-0 with a 1-yard touchdown run by RB Kazuki Takaguchi. In the second quarter Nihon answered Keio's score with 2-yard touchdown run by RB Gota Takeui two and half minutes later and added a second Takahashi to Iwamatsu touchdown (13 yards) midway through the quarter.

Hosei faces the Waseda University Big Bears tomorrow. If the Tomahawks win it is likely that both, Hosei and Nihon, will stay undefeated before their week 7 game on November 23. Two weeks ago Nihon had defeated Waseda 14-7 while Hosei beat Keio 28-23. The best of the remaining opponents for both teams, the Meiji University Griffins, already lost to Waseda and Keio.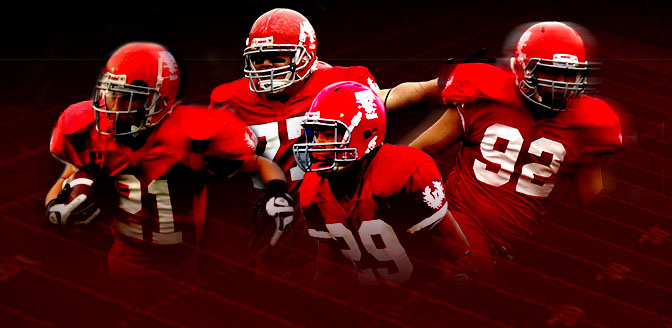 (Text: Dieter Hoch / Photo: Nihon University Phoenix)
Frontiers too much for BigBlue
(October 5, 2014) - The Fujitsu Frontiers proved to be too much of a challenge for IBM BigBlue on both sides of the line of scrimmage and won the week 4 matchup 41-13 at Kawasaki Fujimi Stadium. The defense held IBM's offense to under 300 yards, and Colby Cameron won the highly anticipated battle of the two top US quarterbacks in the X League completing 21 of 30 pass attempts for 230 yards and three touchdowns without throwing an interception. Cameron, the former Louisiana Tech signal caller and NCAA record holder for consecutive pass attempts without an interception (444), also ran for a score. IBM's Kevin Craft, who had a big game the week before in a 30-21 win against Nojima Sagamihara Rise, completed 20 of 31 pass attempts but was limited to 169 yards and had only one touchdown pass against three interceptions.

The win against BigBlue puts the Frontiers in position to capture the East Division titel with a win against the Rise in the final week of first stage play on October 20. In this case the Frontiers in the second stage would play against the second place team from the West Division (Impulse or Challengers) and the third place team from the Central Division (Silver Star or Lions). If the BigBlue finishes first stage play in second place in the East Division they would face the first place team from the Central Division (most likely defending X League and national champion Seagulls) and the third place team from the West Division (Impulse or Challengers) in the second stage.

Game Statistics

Game Report at www.xleague.com

Week 4 wrapup at www.xleague.com

(Text: Dieter Hoch / Photo: X League)
BigBlue beats Rise, Frontiers next
(September 28, 2014) - IBM BigBlue took a big step towards their goal of reaching the final stage for the first time since 2010. QB Kevin Craft threw for 316 yards and four touchdowns and lead his team to a 30-21 win against the Nojima Sagamihara Rise. The win enhances the BigBlue's chances to reach the semifinals because as a second or even first place team in first stage play they will get "easier" second stage pairings than as a third place finisher. Each second stage division puts together one first place, one second place and one third place finisher from the first stage divisions.

BigBlue's win creates a battle for the eventual division title next week when BigBlue faces division favourite Fujitsu Frontiers. With a win IBM would take the title, if the Frontiers win the final standings in the east division would be determined by the outcome of the week 5 matchup between the Frontiers and Rise.

Game Statistics

Game Report at www.xleague.com

Week 3 wrapup at www.xleague.com

(Text: Dieter Hoch / Photo: X League)
Kanagawa withdraws from competition
(September 28, 2014) - The Kanto Collegiate Football Association was caught a bit off guard when Kanagawa University withdrew their football team from this year's Division 1 competition on short notice earlier this month. The Japan Times Online reported that the withdrawel stems from a "violent incident" within the team. As a result all games of the Atoms will count as losses and the team will be demoted to Division 2.

Read more at The Japan Times Online
(Text: Dieter Hoch)
Finies move closer to 2nd stage
(September 14, 2014) - Just two weeks into the 2014 X League season the surprising Elecom Kobe Finies are one win away from qualifying for the second stage for the first time. After upsetting Panasonic Impulse in week one they did the same to the other traditional west division powerhouse in week two, beating the Asahi Soft Drinks Challengers 16-12 with a relentless defensive effort and enough firepower by their veteran leaders on offense, QB Inoke Funaki and RB Ryohei Kaneshiro. The Finies scored all their points in the first half and their defense held the Challengers to just 61 total yards.

At Kobe's Oji Stadium Funaki was responsible for both offensive touchdowns. The 31-year old former FBS College Football player (Hawaii 2006 through 2009) scored with a 61-yard run in the first quarter and added a 22-yard touchdown pass to WR Masahiro Matsuda in the second quarter. A 23-yard field goal by Jun Matsuoka increased the Finies' lead to 16-0 with three minutes and 40 seconds left to play in the first half.

Statistics
Game Report at www.xleague.com

(Text: Dieter Hoch / Photo: X League)
Finies upset Impulse
(August 30, 2014) - Jun Matsuoka's 39-yard field goal in overtime gave the Elecom Kobe Finies a 24-21 upset victory against the Panasonic Impulse at Kobe's Oji Stadium. Impulse struggled on offense and their defense was surprised a couple of times by long passes from QBs Inoke Funaki and Keijiro Kasuya. Still, the team that was heavily favoured to win the game went ahead twice in regulation by touchdown runs from last year's rookie sensation Shun Yokota. The Finies tied the game with three minutes and 18 seconds left in the fourth quarter when Kasuya hit local hero Masahiro Aso with a 35-yard touchdown pass and K Yoshiro Takai added the extrapoint. Aso, a rookie, played College Football at Kobe University and was the Kansai League's leading receiver in 2013.

Statistics
Game Report at www.xleague.com
Week 1 wrapup at www.xleague.com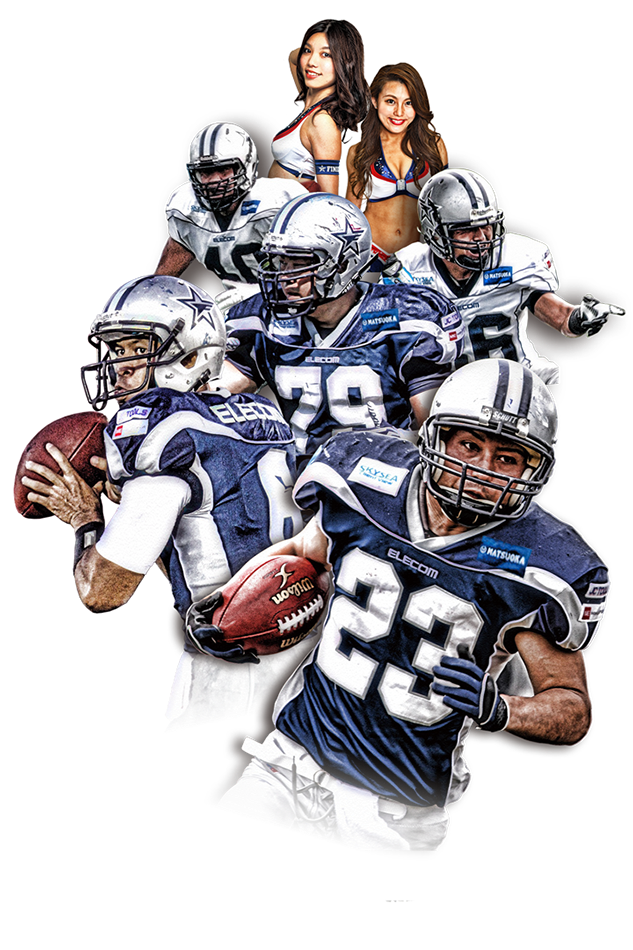 (Text: Dieter Hoch / Photo: Elecom Kobe Finies)
Strong finish helps Deers to avoid upset
(August 25, 2014) - The 2014 fall season in the X League started in thrilling fashion when the LIXIL Deers came back from 14 points down, scored 17 unanswered points in the fourth quarter and finally beat the All Mitsubishi Lions 31-28 in front of more than 4.000 fans at the Tokyo Dome. K Daisuke Aoki scored the game-winning points with a 19-yard field goal with 72 seconds left to play. Deers QB Shohei Kato had a stellar performance completing 78 percent of his passes with four touchdowns and no interceptions.

The upset-minded Lions weren't bad either. Highlighted by two touchdown passes from QB Shoma Taniguchi and a 93-yard touchdown run by RB Yasuhiro Suzuki the Lions took a 28-14 lead into the final quarter. But the Deers responded by scoring two touchdowns within a span of just under two minutes early in the fourth quarter to tie the game at 28.

Statistics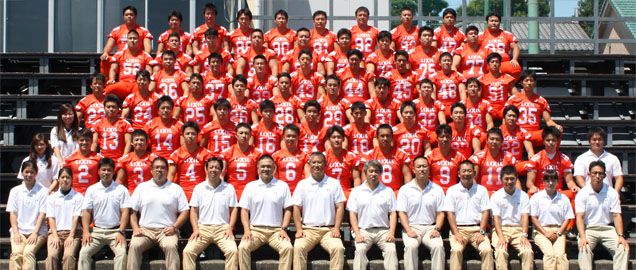 (Text: Dieter Hoch / Photo: LIXIL Deers)
Japan finishes fifth at U19 World Cup
(July 19, 2014) - RB Nanato Nishimura and WR Yoshihito Omi scored two touchdowns each to help Japan to a 30-7 win against France in the game for fifth place at the U19 World Championships in Kuwait. Japan had to settle for the 5th place game because a 43-0 loss to Team USA and Mexico's 35-7 win against Germany in the final round of group play pushed the team to third place in Group B.

After falling behind early - France needed just four plays to take a 7-0 lead - Japan scored almost every time the offense had the ball. Eight plays after the french lead Nishimura scored Japan's first touchdown with a 2-yard run. Japan's second possession ended with a 42-yard field goal by Akio Yamagishi for a 10-7 lead at the end of the first quarter. Japan increased the lead to 17-7 at halftime with a 17-yard touchdown pass by QB Yuto Nishiyama to Omi at the end of an 8-play 84-yard drive.

France had a great opportunity to get within three points early in the fourth quarter but a remarkable drive (20 plays, 80 yards) that started at their own 10-yard-line and took more than eleven minutes ended with a 2-yard run to Japan's 10-yard line on a fourth down and four yards needed for a new first down. And things got even worse for France. Japan engineerd an 11-play 90-yard drive that had taken six and a half more minutes off the clock when Nishimura ran the ball into the endzone from three yards out for a 24-7 lead. After just three plays by France, including an 18-yard loss on second down, and a punt Japan took over at the 30-yard line of France. On the very next play QB Kaito Hyakuda threw a 30-yard touchdown pass to Omi.

Standings
Scores
Statistics Japan vs France
Statistics Japan vs USA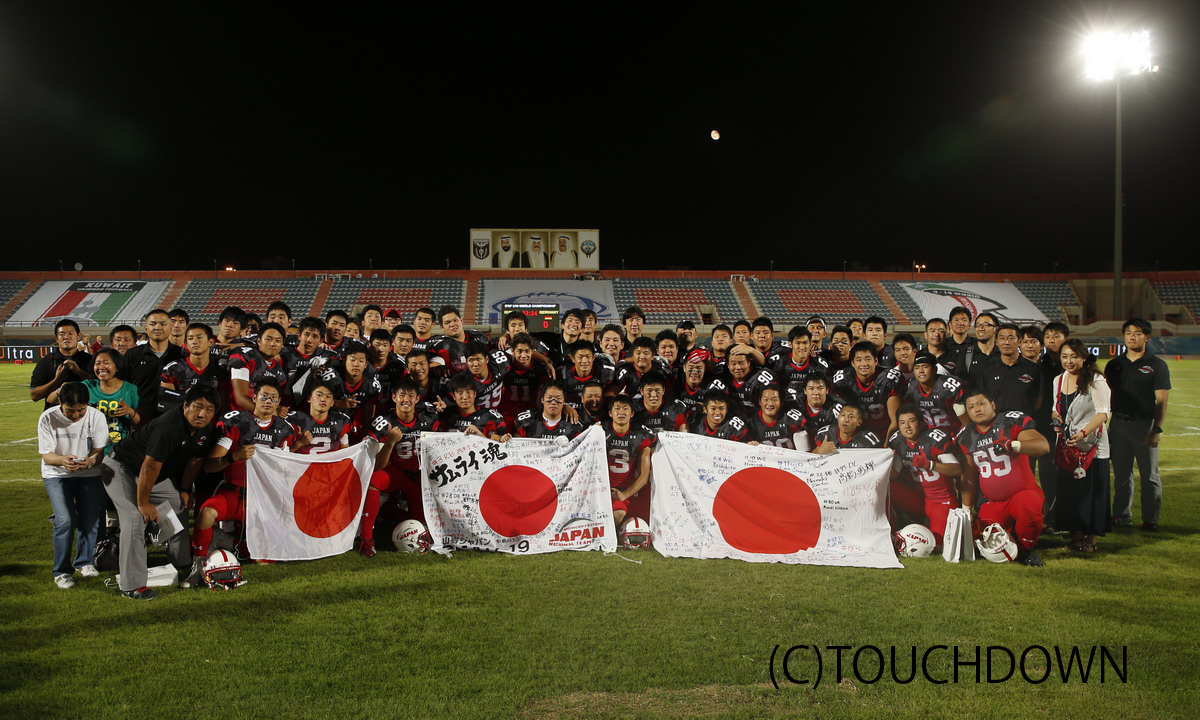 (Text: Dieter Hoch / Photo: Touchdown)
Championship hopes on the line
(July 13, 2014) - Later today Team Japan has to beat Team USA in the final game of group play to advance to the championship game at the IFAF U19 World Championships in Kuwait. Both teams go into that game unbeaten. Team USA won both previous games in Group B against Mexico (49-14) and Germany (54-0) while Japan had to settle for a tie in the second game against Mexico (24-24) after beating Germany in game one (48-20).

The winner of this game will face the winner of the battle for first place in Group A, Canada against Austria. If Japan would lose to the USA the outcome of the Mexico versus Germany game would determine if Japan plays for third place against the loser of the Canada versus Austria game or for fifth place against either France or tournament host Kuwait.

Japan had a strong start into the tournament with RB Nanato Nishimura giving his team a 20-point lead at halftime against Germany with touchdown runs of 1 and 65 yards plus a 45-yard catch for a touchdown. RB Jerome Manyema gave Germany hope for a better second half with a 74-yard run around left end on the first offensive play of the third quarter. But any hopes for a comeback ended about 20 seconds later when RB Atsuki Noda put Japan back up by 20 points with a 47-yard run on Japan's first offensive play of the second half.

In the second game against Mexico it looked like more of the same for Japan. Touchdowns by WR Yoshihito Omi (8-yard catch), RB Nanato Nishimura (6-yard run) and QB Yuto Nishiyama (1-yard run) plus a 32-yard field goal by Akio Yamagishi gave Japan a 24-7 lead at halftime. But in the second half Mexico took over the game allowing just 58 total yards on defense and gaining 249 yards on offense. After the two teams traded punts Mexico started the second possession of the second half with a 50-yard pass that took the team to Japan's 30-yard line. Four plays later Mexico cut Japan's lead to ten points (24-14) with a 5-yard touchdown run. After further cutting the lead to seven points with a 24-yard field goal with about four minutes left in the game Mexico took advantage of a short punt (15 yards) at the end of Japan's next possession. Taking over at midfield Mexico's offense scored four plays later on a 34-yard run to tie the game at 24 with 49 seconds left to play.

Standings
Scores
Statistics Japan vs Mexico
Statistics Japan vs Germany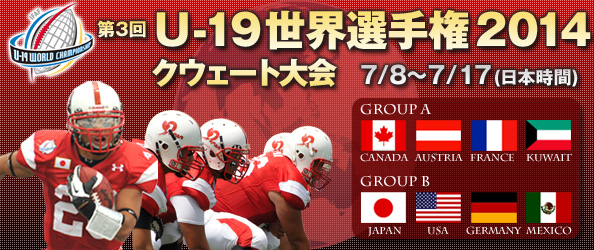 (Text: Dieter Hoch / Photo: NFL Japan)
Seagulls win wild Pearl Bowl final
(June 24, 2014) - The Fujitsu Frontiers may have found the guy to lead them to a championship in QB Colby Cameron but for now their claim to dethrone the Obic Seagulls as the top team in the X League was put on hold. In a wild Pearl Bowl final QB Shun Sugawara first lead the Seagulls to the game-tying touchdown as time expired and then scored with an 8-yard run in the second overtime to give his team a 37-34 win in front of nearly 17.000 fans at the Tokyo Dome.

The game saw seven lead changes in regulation, the last one with just under nine minutes left when Cameron, who joined the Frontiers this spring after unsuccessfully trying out with the NFL's Carolina Panthers last summer, threw a 10-yard touchdown pass to WR Sei Kyo for a 28-22 lead. The Seagulls needed a huge offensive effort to avoid defeat going 81 yards in two minutes. With time running out Sugawara found RB Takuya Furutani in the endzone for a 19-yard touchdown pass. And the Seagulls could have won the game right there but K Yosuke Kaneoya who had already missed a PAT following the first touchdown again could not convert.

Read more:
Game Report 1 at www.xleague.com
Game Report 2 at www.xleague.com

Statistics

(Text: Dieter Hoch)
Impulse reclaims spring title
(May 25, 2014) - One year after losing the Green Bowl Final Panasonic Impulse took revenge beating the Asahi Soft Drinks Challengers 35-7 in this year's Green Bowl Final at Kobe's Oji Stadium. Last year the Challengers prevailed 16-8 for their first Green Bowl title since 2006. The key to Panasonic's victory were two touchdowns in a span of just 72 seconds in the third quarter. First RB Shun Yokota scored on a 2-yard run to give his team a 14-7 lead with four minutes and 40 seconds left in the third quarter and one minute and 12 seconds later LB Kohei Unuma increased the lead to 21-7 with a short punt return. In the fourth minute of the fourth quarter Yokota scored his second touchdown with a 34-yard run and two minutes later QB Yuma Nagayoshi added another score with a 15-yard run.

Read more:
Game Report at www.xleague.com

Statistics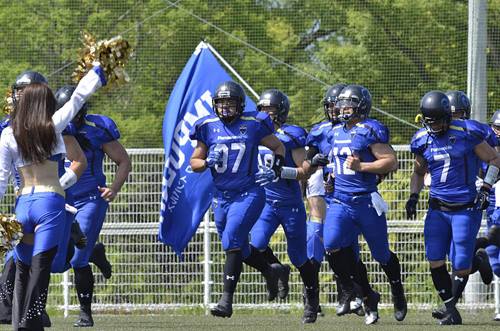 (Text: Dieter Hoch / Photo: Panasonic Impulse)
Japan finishes second in Sweden
(May 12, 2014) - Japan finished second at the
1st World University Championship in Uppsala, Sweden. In a battle between previously unbeaten teams Japan lost the final game of the tournament against Mexico 14-6. In a game that was dominated by the two defenses most of the time two long runs by RB Juan Lopez Santana made the difference for Mexico. On the third play of Mexico's fourth possession Lopez Santana ran for 57 yards to Japan's 34-yard line. Two plays later RB Alberto Lopez Silva score on a 10-yard run. In the fourth quarter Mexico had a similar drive. This time Lopez Santana ran for 45 yards to the 3-yard line of Japan on the fourth play. Again two plays later Lopez Silva scored his second touchdown with a 3-yard run that gave Mexico a 14-6 lead with just one minute and 30 seconds left.

Japan came within one point early in the third quarter with a 2-yard touchdown run by WR Tatsuya Tonka at the end of an impressive 12-play 80-yard drive and a second long drive (14 plays, 71 yards) following Mexico's second touchdown almost put Japan in position to tie the game. But two incomplete passes in the final seconds after reaching Mexico's 20-yard line sealed Japan's fate.

Read more:
Game Report at www.uppsala2014.com

Statistics
Scores and Standings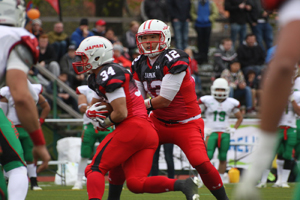 (Text: Dieter Hoch / Photo: JAFA)
Japan aims for championship
(May 9, 2014) - Japan will play for the title at the
1st World University Championship in Uppsala, Sweden. In the final game of the five-nation round-robin tournament Team Japan will face Mexico on Sunday, May 11. In the first three games against overmatched opponents both teams scored over 50 points in each game and did not allow a single score. Japan beat Finland 84-0, China 54-0 and host Sweden 57-0. Mexico opened the tournament with a 62-0 rout of Sweden followed by a 53-0 win against Finland in game two and a 55-0 win against China in game three. Scandinavian neighbours Sweden and Finland, both with one win against China, will battle for third place on Saturday, May 10.

In Japan's opener against Finland former Ritsumeikan University Panthers RB Shu Inoue gained 200 yards and scored four rushing touchdowns on just nine carries. Inoue's former teammate QB Yuichiro Araki completed six of eight pass attempts for 132 yards and three touchdowns, and WRs Keita Suzuki, another former Panther, and Aruto Nishimura (Nihon University Phoenix) had two touchdown catches each.

In the two other games former Kyoto University Gangsters RB Ryo Takagi became the top offensive weapon, scoring on a 31-yard run and a 42-yard punt return against China and adding 143 rushing yards and a 35-yard touchdown run against Sweden. Meanwhile Araki became the most effective of Team Japan's four quarterbacks completing 13 of 21 pass attempts for 227 yards and five touchdowns with no interceptions. And the defense through three games allowed just two first downs (one by penalty) and minus two total offensive yards.

Game Statistics:
Japan vs Finland
Japan vs China
Japan vs Sweden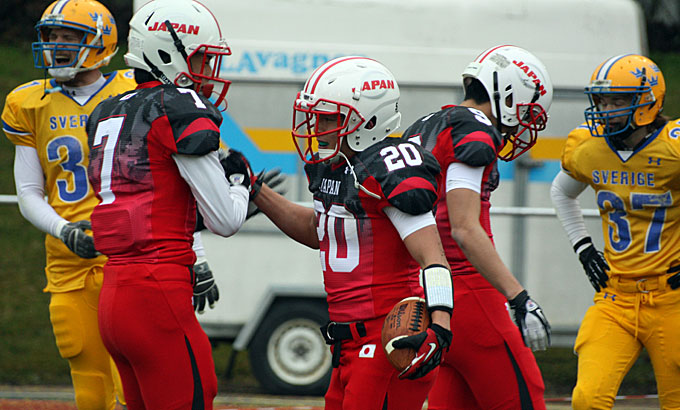 (Text: Dieter Hoch / Photo: JAFA)
Japan routs Philippines
(April 26, 2014) - It took Japan a total of six offensive plays to turn the World Cup qualifier against the Philippines at Tokyo's Amino Vital Field into a rout early. In the end Japan beat the Aguilas (nickname of the Philippines' national team) 86-0 to secure a place in the 2015 World Cup at Stockholm, Sweden. On the first offensive play QB Shun Sugawara threw a 56-yard touchdown pass to WR Yasuhiro Miyamoto, on the second play of Japan's second possession Sugawara connected with TE Akimitsu Mori for a 24-yard touchdown pass and Japan's third drive ended on the third play with a 9-yard touchdown pass from QB Shohei Kato to WR Shoma Endo for 21-0 lead seven minutes into the game. Against an inexperienced opponent Japan scored in almost every possible way, adding five rushing touchdowns, a punt return for a touchdown, an interception return for a touchdown, a fumble return for a touchdown, a safety and twelve PATs.

It took almost three quarters before the Philippines' offense that finished the game with minus 45 total yards reached their first - and only - first down of the game. Following a touchdown that increased Japan's lead to 58-0 the Philippines gained 18 yards in five plays - 15 through a pass on fourth down. Unfortunately the sixth play of the drive ended with an interception an a 62-yard return for a touchdown by DB Hidetoshi Yano that gave Japan a 65-0 lead in the final minute of the third quarter.

It will be Japan's fifth World Cup appearance in as many IFAF World Cup tournaments. Japan won the first two in 1999 in Italy and 2003 in Germany, finished second in 2007 at Kawasaki and third in 2011 in Austria.

Read more:
Game Report at www.xleague.com

Statistics

(Text: Dieter Hoch / Photo: JAFA)
Japan beats Germany
(April 14, 2014) - In a rare international exhibition game Japan beat Germany 38-0 at Kawasaki's Fujimi Stadium in the second edition of the German-Japan Bowl. Japan's offense did most of the damage through the air with QBs Shun Sugawara, Shohei Kato and Keiya Hiramoto throwing for a combined five touchdown passes. WRs Naoki Maeda and Ryoma Hagiyama each caught two touchdown passes. Team Japan lead only 14-0 at halftime but three touchdowns in the fourth quarter on consecutive possessions, two following interceptions, turned the game into a rout.

Read more:
Game Report at www.xleague.com

Statistics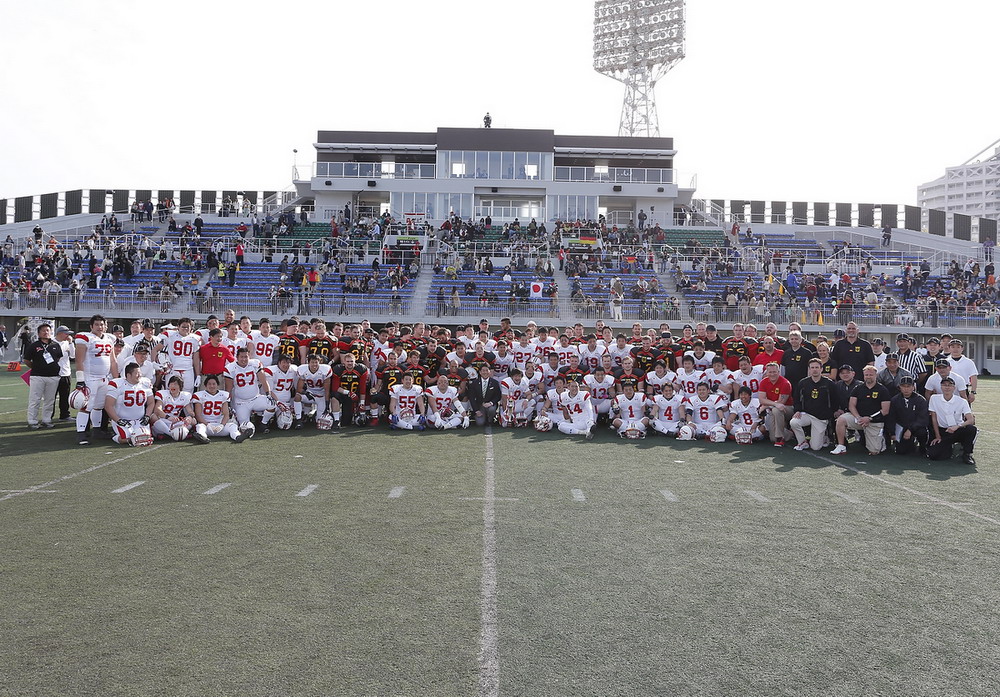 (Photo: Touchdown)
Links
Japanese American Football
magazine (monthly)
---

Kanto League Website
---

Kansai League Website
---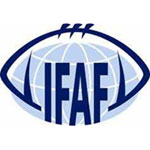 International Federation
of American Football (IFAF)
---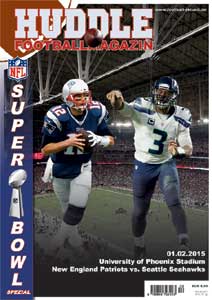 Website of the german American Football magazine HUDDLE
---

German
American Football Website
---

Animé, Manga, J-Music
---